Comment turned blog post
This blog post started as a simple comment on a video interview of UN Secretary-General Ban Ki-moon.  But, I as I reflected on my own heritage and the comments being posted, my simple comment evolved to this blog post.
Shaping my own perspective
My own view of the subjects in the video are shaped in part by being of mixed race, specifically Native American Indian, Estonian, and Swedish ancestry. My view is also shaped by my volunteer board work I do with Oikocredit International, an organization that has effectively lifted people out of poverty for nearly 40 years. You probably haven't heard of them, which is why I'm on the board of Oikocredit Northwest, a support association for Oikocredit International. Operating in over 80 countries and with nearly 1 billion U.S. dollars of cumulative capital invested, Oikocredit has made a conscious decision to do good in the world, by giving people a hand up, not a hand out. Oikocredit is a leader in measuring the impact of its investments through the use of the Grameen Foundation's Progress out of Poverty Index and also the internally developed Environmental, Social, Governance scorecards (ESG). Our tagline is Investing in People.
A brief history of exploitation in the United States
At one point in the formative years of the United States, some people thought that genocide of the American Indian was a good idea, or at minimum a necessary evil. Fast forward and the new exploit became the African American slaves that many considered to be a business necessity to keep their agricultural and industrial machines going. Today, in the U.S. we struggle with wealth imbalance, minimum living wage, poverty, and a gutted middle class. These issues have created polarizing times as they spark more conversations with people of all walks, political orientations, and even ages.
Dig a little deeper in your middle class pockets
We are living in a time rife with collisions in thought. On the one hand, an overly ambitious and unrealistic government has unbridled enthusiasm to fight costly wars and promote the agenda of mega corporations that fund their election campaigns. On the other hand, these same elected representatives cut funding that would benefit wounded warriors upon their return home. It turns out we continue to pay for wars even after they are fought. Who knew? [said with extreme judgement and sarcasm] But, wars and veterans are only one chapter in a bigger story.
These elected representatives, policy makers and decisions made by the SCOTUS often fail humanity while at the same time they give large corporations nearly free reign over the environment, job crushing mergers and acquisitions that harm people and communities, and tax loopholes that further crush communities and diminish the stability and the security of the nation. The income impoverished middle class (already suffering from economic shocks due to job losses, banking scandals, a mortgage crisis, retirement crisis, student loan crisis, the next crisis) is left holding an increasingly empty bag. There simply isn't enough tax revenue today or in the future that the middle class will provide to make up for tax dodging, cash-hoarding mega corporations that continue to run largely unchecked.
The video is about humanity not politics
The message in this United Nations Goals and Humanity video isn't about politics; it is about humanity. We need to separate the reality of the political climate and complexity from what we ought to be doing to preserve and improve a sustainable life for peoples of all nations. I believe and have faith in all reasonable people that they would agree that YES, people in all countries should be able to wake up each morning having access to water, energy, education, freedom from undue imprisonment, preventable diseases, forced labor, rape, attack, and other atrocities. Even better they would have the ability to make meaning whether that is a job, motherhood, serving the community, or volunteering.
The men and women behind the curtain
But, until the world's only "superpower" decides that it has a real moral and human leadership agenda, we will continue to slide a little more toward a dystopian unsustainable state ruled by GargantuaCorp. As I talk about in Chapter 6 of my book, the GDP and the DOW have little to do with human progress and happiness, but our media and politicians make believe that Main Street progress somehow tracks the progress of Wall Street. The growing pool of people that get their news from alternative sources of media including the Daily Show with Jon Stewart and The Colbert Report I think would by now have put politicians and traditional media on notice. Perhaps they are not listening or they are simply waiting for things to change back to a less transparent and less connected era?
You may not own your values
Our conversations reflect our values. Ask yourself what are those things that you are talking about and what does that say about your values? Are you concerned with what is going on in the United States, the political climate, your own livelihood, that of your neighbors, or those across the border or the ocean?
Everybody that watches this video needs to ask themselves, "Do I own my own values or did I inherit or subscribe to the ideology of an agenda that belongs to some special interest, privileged few, parent, church, corporation, politician, pundit, influential, etc?"
A shared agenda that puts people first
It is time that people of the planet share a common humanity and promote a sustainable people-first agenda not a special agenda that puts something else first. We need a little less focus on all things military-industrial complex or political and religious intolerance and much more human centered thinking about things that matter to people on a peaceful sustainable planet. We are overdue for politicians, policy makers, and corporate leaders to begin learning about people, empathy, acceptance, design thinking, and intentionally designing the world we'd all like to live in. Cheers to your next and better conversation. If you'd like to talk further please reach out. For self-help on designing a better world from wherever you sit, read The Experience Design Blueprint. To escape today's realities and simply dream of a future that has yet to unfold, read L' impossi preneurs: A Hopeful Journey Through Tomorrow.
about the author
Gregory Olson's latest book is L' impossi preneurs: A Hopeful Journey Through Tomorrow, a light-hearted and deadly serious book about a brighter future where we live more meaningful lives, governments invest in people and sustainable progress, and technology serves humans. Greg also authored The Experience Design Blueprint, a book about designing better experiences and then making them come true.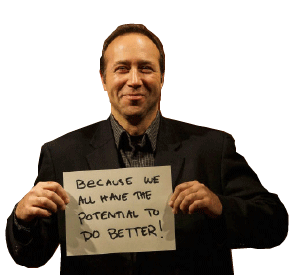 Gregory Olson founded strategy and design firm Delightability, LLC. with the belief that if you delight customers then success will follow. He believes that we all have the potential to do better, as individuals, organizations, and communities, but sometimes we need a little help.  Gregory also serves as a volunteer board member for Oikocredit Northwest, a support association for social and impact investor, Oikocredit International.