Books by Greg Olson
Books by Gregory Olson aka Greg Olson are available in print or kindle format. Available at Amazon, Barnes & Noble, Bokus, or from your local independent bookstore.  See order info pages for details your bookstore will need.
Book Summary: L' impossipreneurs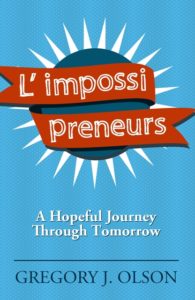 L' impossipreneurs: A Hopeful Journey Through Tomorrow. A book for concerned global citizens who wish to build a better world. This light-hearted and deadly serious book is about a brighter future where we all live more meaningful lives, governments invest in people and sustainable progress, and technology serves humans. This book challenges each of us to think differently, spark our own conversations, and play a role in nudging the world forward to create a better future for all.  Order info and book details page.
Book Summary: The Experience Design Blueprint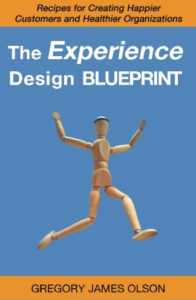 The Experience Design Blueprint, a book about designing better experiences and building a healthier innovation culture. Exercises and mental models in the book will build your confidence and competence in envisioning better possibilities and then making them come true, whether you are working alone or alongside a team.  Using a familiar example of renting a car, the reader is empowered to imagine new possibilities, see new mental models, and expand their "experience' vocabulary so they can apply learnings in their own for-profit, nonprofit, or governmental organization. By doing so, they will create better customer experiences and build a healthier organization in the process. Order info and book details page.