Home » Books by Gregory Olson » The Experience Design Blueprint by Gregory Olson »
A Glimpse of CH14: The World of Work Has Changed
We have reached a new economic reality. We live in an era of continual pressure to do more with less. Organizations of all types are running leaner than ever. Workers now have more assignments throughout their working lives than ever before and many of those assignments are being performed in a capacity other than, as an employee. The related economic reality is that more employers are increasingly dependent on people who are not employees of the firm. This is true, whether the organization is a for-profit enterprise, nonprofit, or government. The world of work has changed and it's not coming back as we once knew it.
What about the Headlines: Jobs Report, Shortage of Workers, etc?
Baffled about a jobless recovery, low GDP growth, and increasing unemployment and underemployment even among skilled and educated people? Skeptical of labor statistics and jobs reports that portray a picture different than the reality you observe? Welcome to the growing class of people who recognize a world of work that has changed. You are not alone.
Key Ideas
There are unintended byproducts that spell trouble for organizations and our collective future
There is a great misalignment between talent and those who claim a shortage of it
In the path forward there is much human service and technology innovation opportunity
Government has a role to build community and civic engagement by shaping supportive policies
Putting talent to good work can yield innovation across infrastructure, manufacturing, healthcare, education, energy and government itself
Full employment for those who want it should be a national goal and priority
Creating happier customers and building healthier organizations is everybody's responsibility
It takes courage to bring about a new order of business and change the conversation
The Experience Design Blueprint
A book about designing better experiences and then making them come true.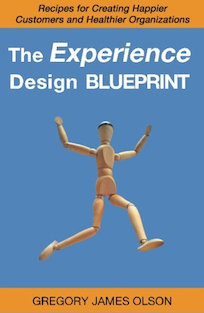 In chapter 14 of my book I offer prescription guidance for large businesses, established small businesses, retirees and volunteers, underemployed, unemployed, Congress and other policy makers, and co-working spaces everywhere.
If your organization wants to improve its innovation culture and engage high performing teams, then you owe it to yourself to read this chapter. Likewise for those empathetic individuals who want to make a difference and may fall outside of traditional organizations. Read the full-color print edition or on any Kindle Reader App supported device using the free Kindle Reader application. Please read it and spark a conversation in your own community or with me.
About the Author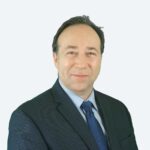 Gregory Olson is a consultant, speaker, and author of The Experience Design BLUEPRINT: Recipes for Creating Happier Customers and Healthier  Organizations. He also authored L' impossipreneurs: A Hopeful Journey Through Tomorrow. He is the creative and strategic director of Delightability, LLC, a company he founded in 2010 whose core tenet is that if you delight customers, then success will follow.