Entrepreneurship isn't for everyone but, are you aware of the other types of 'preneurs?  Perhaps you fall into one of the other types, or you will at some point in your life.
Entrepreneur – this is the traditional risk taker that sees the path they are forging as less risky than working for somebody else doing something that isn't interesting, isn't rewarding, or may conflict with their values.  They often see what's next and can't imagine not pursuing it.
Solopreneur – an entrepreneur acting in isolation without the support of others in the same organization.
Multipreneur – an entrepreneur that is pursuing multiple interests simultaneously either because they have to, in order to make ends meet, or because it is part of a portfolio strategy to see which plays out the best.  Or, they may simply have the capacity to do more than one venture.
Intrapreneur – an employee acting as an internal entrepreneur inside the organization that has many of the risk elements of a classic entrepreneur but, is insulated from the brutal reality of having to manufacturer their own paycheck.
Wannapreneur – this person wants to start something but doesn't know what. They are more constructive that the complainapreneur below but may lack ideas or a clear path forward.
Ideapreneur – this is the person who is stricken with ideas, suddenly and often but they don't take action. They don't have to jump on "this" idea because another possible better idea is right around the corner.
Olderpreneur – this is an older experienced person, the age can vary of course,  but this person has decided to take their wealth of experience, network, skills, and package it up into a credible "what's next" story told with the authority and credibility that may be lacking in a younger entrepreneur. Often they are motivated by pursuing an interest, addressing a nagging problem, leaving a legacy, or designing a venture around a lifestyle.
Complainapreneur – individuals that are stuck in the grind and don't have the courage or clarity to escape. Instead they bemoan their situation, wishing things would change, and eventually they usually do.
Dreamapreneur – those individuals that dream of pursuing a new passion but really never will commit to action. It is simply more fun and much more safe to fantasize about it while enjoying the security of a paycheck, limited working hours, and the familiar.
Adventurepreneur – this person works only to play; these folks might literally have a sign on their door or online profile, "Gone Fishing" or "Kayaking" or "Climbing."
Loyalpreneur – these are those dedicated employees dutifully carrying out the orders of those they work for in exchange for a paycheck.
Philanthropreneur – a generous, thoughtful person that supports other people's projects, initiatives, and ventures often times without concern for any payback.
Luckypreneur – somebody who has a job that allows them to make a big impact, make a good living, and also make a difference in the world.
Have another type of  'preneur to add to the list? Connect and let me know.
Whether you are on your own or in the walls of a larger organization surrounded by colleagues, you'll need to be mindful of the customer and continuously improve your organization. A sure path to do this is to read and follow the 56 recipes in my book: The Experience Design Blueprint: Recipes for Happier Customers and Healthier Organizations.
about the author
Gregory Olson is the author of The Experience Design Blueprint, a book about designing better experiences and then making them come true. His latest book is L' impossi preneurs: A Hopeful Journey Through Tomorrow, a light-hearted and deadly serious book about a brighter future where we live more meaningful lives, governments invest in people and sustainable progress, and technology serves humans.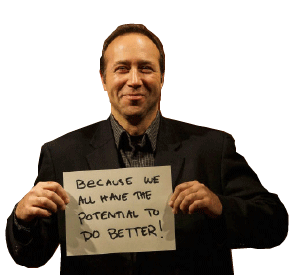 Gregory Olson founded strategy and design firm Delightability, LLC. with the belief that if you delight customers then success will follow. He believes that we all have the potential to do better, as individuals, organizations, and communities, but sometimes we need a little help.  Gregory also serves as a volunteer board member for Oikocredit Northwest, a support association for social investor and financial institution, Oikocredit International.