"Brand Matters" is a double entendre in case you missed that subtlety. One interpretation of brand matters is in the verb sense for the word matters. Your brand matters, meaning your brand is important and has significance. Another interpretation uses the word matters as a noun. There is a great deal of work under the topic of brand, or matters related to brand, or brand matters. And so it is with your brand, nuance. There is different interpretation depending upon context, understanding, and perspective. But, how much variation exists?
Confront Unacceptable Discomfort
Brands become out of step with changing teams and times. When there is unacceptable discomfort with your brand among your company's leadership, then there exists a tension that clouds your operation and impedes progress. Employees feel it, partners feel it, and your customers feel it. When this happens, a new conversation is warranted.
The Goal is Acceptable Discomfort
The goal in reestablishing your brand is to get all of your stakeholders to at place of comfort so that together you can assert your brand across the operation and fully activate it in the marketplace. Once you do this, the velocity of initiatives that rely on it go faster and much more smoothly. Remember, consistency before momentum! Your company's leadership team doesn't need to agree on every nuance of the brand, but they do need to find a level of acceptable discomfort. If there is ongoing tension your work is incomplete.
Start a Your Brand Matters Conversation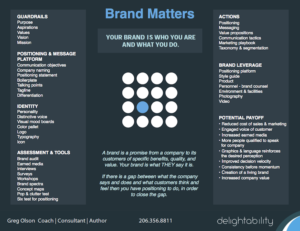 I've assembled a "Brand Matters" one page resource for you to reflect on and use in your conversations with your leadership team. Most of the terminology is generic and easily researched for more detail and understanding. At a high level it includes:
Brand definition
Guardrails
Positioning & message platform
Identity
Assessment & tools
Actions
Brand leverage
Potential payoff
Taking Action to Close the Gap
Your brand matters. Act like it. Whichever way you think of brand, I simply want you to do just that – think. And, if you do have a gap between what your company says and does and what customers think and feel, then I do hope that you will spark a productive conversation within your organization and among your team. Your customers deserve this. Your employees deserve it, and your company won't be relevant forever, without closing that gap. See Lumpy Snowball of an Organization.
Once you close the gap you'll be in a great position to go even further by creating a living brand that never gets lost, while at the same time delivering more remarkable experiences for your customers, partners, and employees. But, I'll leave those subjects for future articles.
about the author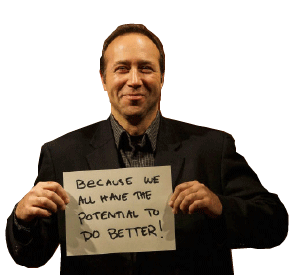 Gregory Olson's latest book is L' impossipreneurs: A Hopeful Journey Through Tomorrow, a light-hearted and deadly serious book about a brighter future where we live more meaningful lives, governments invest in people and sustainable progress, and technology serves humans. Greg also authored The Experience Design Blueprint, a book about designing better experiences and then making them come true.
Greg is a business and marketing consultant who founded Delightability, LLC. with the belief that if you delight customers success will follow. He also believes that we all have the potential to do better, as individuals, organizations, and communities, but sometimes we need a little help.  Gregory served as a volunteer board member for Oikocredit USA, a national support association for impact investor, Oikocredit International.