When Performance Doesn't Track Expectations
It happens to most of us. We reach a point where a campaign, a project, or even an entire enterprise is not progressing as expected. When results don't live up to expectations you have a decision to make – do something different or stay the course. If you are working alone this is easier; you can decide and then take immediate action. If the road is crowded with other decision makers (or stakeholders) your decision making ability may encounter some traffic. Aside from the slowdown, your options for action may be more limited.
I started this article by suggesting to pivot or persist is the question. As usual, life is slightly more complicated than the simple binary choice presented. Other alternatives exist.
Beyond the Pivot
Full stop (This might be relevant if you have a go big or go home model or you run out of cash)
Blame others (I include this only because many people resort to blame when things don't go according to plan. Don't join this nonproductive crowd and as importantly don't let the turkeys get you down.)
The Persist path has much variation. Staying the course does not necessarily mean leaving things exactly as they are.
Variations of Persist
You can persist "as is" expecting that time or external circumstances will eventually bring you favor. The timing goddess can bless you or curse you. There were fundamentally sound businesses and even startups that got washed out during the dot com bubble simply because of timing. Likewise, there are publicly traded startups that went public at an opportune time but still require ongoing cash infusions to survive. Timing isn't everything, but it is huge.
You can adjust your expectations and carry on. Sometimes you have to get grounded in reality; not all Little Leaguers will make it to the Major Leagues.
You can adjust other elements, e.g., the product, the service, the distribution, the messaging, how you think about and engage your audience, etc.
The More Drastic Pivot
When more drastic action is required or patience runs thin, there is the pivot. One thing to think about is how far do you pivot. Think of a sailing vessel. Will you turn completely around 180 degrees? Will you pivot 90 degrees, 45 degrees? How significant will your course change be? A word of caution on pivots: If you have romantic dreams of reinvention you might be looking for more of an escape than a pivot. If the underlying foundation and behaviors is what's retarding performance then any romantic reinvention will only expose that pattern. It would be best to shore up the foundation and improve your operating mechanisms – those improvements will serve you well whether you pivot or persist.
Remember, if you a sailing in very rough seas a pivot might save you in the short run but you really have to persist until the weather clears. Make sure your pivot will actually change your circumstances. If it doesn't you may be returning to the very question we began with, to pivot or persist.
No matter what lies ahead for you, when the path forward is murky and your spirits are running low remember these words, "When the world says, 'Give up,' Hope whispers, 'Try it one more time."' – unknown
"When the world says, 'Give up,' Hope whispers, 'Try it one more time."' – unknown
It's lonely at the top, whether you are the Chief or the Chair or the master of your freelance domain it can be helpful to get some outside and objective help from a business coach, advisor or other confidant. Good luck in your journey.
about the author
Gregory Olson's latest book is L' impossipreneurs: A Hopeful Journey Through Tomorrow, a light-hearted and deadly serious book about a brighter future where we live more meaningful lives, governments invest in people and sustainable progress, and technology serves humans. Greg also authored The Experience Design Blueprint, a book about designing better experiences and then making them come true.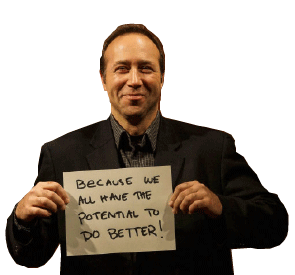 Greg is a business and marketing consultant who founded Delightability, LLC. with the belief that if you delight customers success will follow. He also believes that we all have the potential to do better, as individuals, organizations, and communities, but sometimes we need a little help. Gregory served as a volunteer board member for Oikocredit Northwest, a support association for social investor, Oikocredit International and as an advisor for Seattle University's Department of Computer and Electrical Engineering.