Deserters and Dead Men Walking
At some point we all find ourselves in a crummy, untenable situation. That can happen at work whether we are the leader, or the follower. The blame game in high tension environments is omnidirectional and if the oxygen is thin (as measured in cash flow), all kinds of seedy characters suddenly appear on the scene. We can get caught up in having the wrong conversations about things that probably don't matter, especially not to customers, or a greater set of stakeholders. Many give up and move on before they can turn it around. Others stay put, like dead men walking. This happens in the tiniest of companies as well as the behemoths. So, how do you free your mind if you can't free yourself?
The Time Machine
I want to share with you an inspiring character that if I had a time machine, I'd visit. Better yet, I'd bring him here and get his take on a few things. That character is Ben Franklin. One of the reasons I admire Ben is that he overcame who he was, to become what he could be. If you didn't know, Ben Franklin was an indentured servant. The 10th child of a family of little means, his father once considered giving him to the church. Instead, Ben's eldest brother took him on as an apprentice which was really more of a master – slave relationship complete with periodic beatings. Ben, of all people, could have marched on, beaten down by a system larger than him, but thankfully he didn't. Ben went on to live 84 years and contributed to humanity in many ways including as a prominent author, printer, politician, postmaster, satirist, inventor, musician, and diplomat. He invented bifocals, electricity, and the United States Postal Service among many other things we rely on today. He created the first library in the colonies and Poor Richard's Almanac. I still pick up a copy of the Farmer's Almanac most years and I have library books due right now. Thanks for both of those possibilities, Ben!
Getting Free
Ben was a multifaceted success and certainly fought adversity, whether Britain and the Stamp Act, or his own people in the colonies as he promoted what's next. He was an outspoken critic of drinking beer on the job, a recipe for declined productivity, he argued. I imagine that idea was not popular. Maybe you are a modern day Ben Franklin.  Or, perhaps you harbor a Ben stuck in your organization or even your family. If so, maybe you should set them free to do their best work. I don't know what quotes Ben Franklin might find inspiring especially while he was in servitude. But, the 10 quotes below, I imagine would have further fueled the fire in Ben's belly.  Perhaps these quotes can help you find your new freedom, so that you can do your best work, too.
"We can't become what we need to be by remaining what we are."
― Oprah Winfrey
"Lightning makes no sound until it strikes."
― Martin Luther King Jr.
"We can't help everyone, but everyone can help someone."
― Ronald Reagan
"We can't solve problems by using the same kind of thinking we used when we created them."
― Albert Einstein
"Imagination works so quickly, quietly, and effectively that we are insufficiently skeptical of its products."
― Daniel Gilbert, Author, Stumbling on Happiness
"Entrepreneurs are simply those who understand that there is little difference between obstacle and opportunity and are able to turn both to their advantage."
― Niccolo Machiavelli, Italian diplomat, political philosopher, musician, poet, playwright (1469-1527)
"We must not say every mistake is a foolish one."
― Cicero Roman author, orator, & politician (106 BC – 43 BC)
"As the births of living creatures are at first ill shapen, so are all innovations, which are the births of time."
― Francis Bacon, English philosopher, statesman, spy, Freemason and essayist (1561 – 1626)
"Make no little plans; they have no magic to stir men's blood — and probably will themselves not be realized. Make big plans; aim high in hope and work, remembering that a noble, logical diagram once recorded will not die."
― Daniel Hudson Burnham, American architect and urban planner (1846 – 1912)
"People go from denial to despair so quickly that they don't stop right in the middle and do something about it."
― Al Gore, an Inconvenient Truth
about the author
Gregory Olson is the author of The Experience Design Blueprint, a book about designing better experiences and then making them come true. His latest book is L' impossi preneurs: A Hopeful Journey Through Tomorrow, a light-hearted and deadly serious book about a brighter future where we live more meaningful lives, governments invest in people and sustainable progress, and technology serves humans.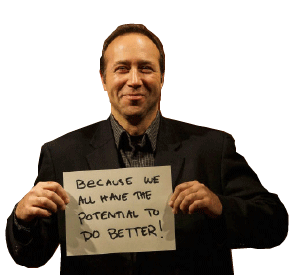 Gregory Olson founded strategy and design firm Delightability, LLC. with the belief that if you delight customers then success will follow. He believes that we all have the potential to do better, as individuals, organizations, and communities, but sometimes we need a little help.  Gregory also serves as a volunteer board member for Oikocredit Northwest, a support association for social investor and financial institution, Oikocredit International.