Have you ever felt as though a project had a life of its own, running like a freight train down the tracks.  Like watching a glass fall off the counter, sometimes we feel powerless in our projects, even the very ones that we initiate.  The feeling can be even worse if you are jumping aboard another person's project.
Personalities and biases will definitely begin to come out when you are working on a project with other people. Some people are mindful of execution and stay very disciplined whereas others may abandon the current plan because new information leads to more promising possibilities. Sometimes projects are completed on time and on budget with their intended outcomes but at other times, they are not. The ride isn't necessarily enjoyable. Remember that freight train image? When a project is really out of control it feels more like a FRIGHT train.
What is needed is a better conversation.  Sometimes you do have to slow down, in order to speed up.
Getting on The Same Page
We use the Big Picture in our practice to communicate our ideas, get on the same page and move forward together.  Using the Big Picture taps the visual thinking parts of your brain and allows you to have more productive conversations.  So when people are checked out, going down the wrong path, or the project feels out of control, slow down.  Grab the Big Picture, outline the plan using sticky notes to represent the big chunky steps and have a better, more inclusive conversation.   Those working with you will thank you for a more enjoyable ride and together you're much more likely to reach your intended destination.
About The Author
Greg also authored The Experience Design Blueprint, a book about designing better experiences and then making them come true. The Big Picture is discussed further in:
Ch 12: The Three Psychological Zones
Ch 13: Taking Flight
Gregory Olson's also authored, L' impossi preneurs: A Hopeful Journey Through Tomorrow, a light-hearted and deadly serious book about a brighter future where we live more meaningful lives, governments invest in people and sustainable progress, and technology serves humans.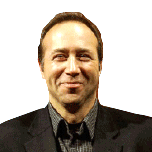 Gregory Olson founded strategy and design firm Delightability, LLC. with the belief that if you delight customers then success will follow. He believes that we all have the potential to do better, as individuals, organizations, and communities, but sometimes we need a little help.  Gregory also serves as a volunteer board member for Oikocredit Northwest, a support association for social and impact investor, Oikocredit International.