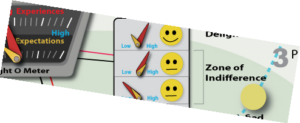 According to the Deloitte Center for the Edge study in 2009, only 1 in 5 employees are passionate about their jobs.
Imagine the untapped potential that exists in the remaining 4/5 of your employee population. What if you could harness their potential and put it to good use, creating value for your customers and for your organization.
I'll bet you could improve communications, innovative your products and services, gain new insights into engaging existing and new customers, and run a better, more profitable organization.
But the economy is bad, most employees and customers seem sad, and the financial wizards controlling the purse strings perpetuate doing nothing which is the same as saying no to progress.
Well, not surprisingly we have a better way. In a previous blog post we introduced the Delight O Meter and shared the infographic and a few examples in the May issue of our What's Next newsletter.
Applying the Delight O Meter to the various touchpoints along the customer journey can itself motivate and engage employees. This helps to make the customer come alive inside the organization.  But, you can also simply substitute employee for customer in the infographic and you're on your way to finding the right balance between employee expectations and their experiences. The potential of your organizations lies in getting the disengaged employees out of the zone of indifference.
Subscribe to the What's Next newsletter.
Need help? Contact Us.