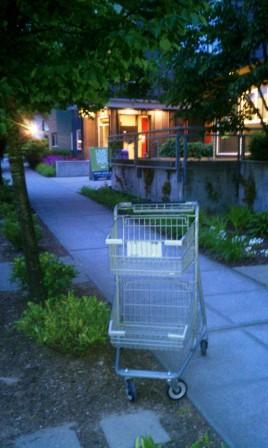 Lurking beneath the metrics you'll find the truth. This truth may have slowly crept up on you and suddenly poked you in the eye as a new reality. But, you say, "We have these metrics and this is the way we measure, and see, and do things around here." Exactly right, but exactly wrong too.
Here is an easy target to pick on. Abandoned shopping carts litter the landscape most everywhere. City Councils have metrics and want to hold stores accountable for their wayward carts. Stores have metrics and are stuck between cracking down on their patrons and giving them freedom to take carts as needed. Biases are at play too. What looks like a theft problem to the store's Loss Prevention Manager is a transportation problem to the "bus stop mom" or "urban retirement dweller." Once you get past the bias that this is a purely homeless problem, you'll see that kids, and moms, and grandpas all play a part in this problem. Even police are being called upon by municipalities to "do something about this menace." One police department recently posted on their Facebook page a reminder to the public, that it is a crime to take a shopping cart off of store premises. Each of the stakeholders, save the shopper themselves, have metrics, but who is right here?
The world has shifted – shopping carts have gotten smaller and more maneuverable, the price of gas has continued to rise, and some have opted out of owning personal transportation in favor of walking or using public transportation. But, amid these changes, stores are probably blind to the transportation realities their customers face.
While stores have found more and more ways to understand our shopping preferences and probably have metrics related to the foods we buy and the prices we're willing to pay, they really have little understanding of why we choose their store, how we got there, and if a grocery cart will be on our list of items to take home today.
So, there you have it, amid all of those metrics the human behind the customer has been forgotten and that is exactly wrong. Imagine if the metrics for a given store revolved less around how much orange juice we purchased and at what price and instead examined who the shopper is and what transportation they used to get to and from the store. That might just spawn some new services and brand loyalty to the stores with courage enough to change the conversation.
"Don't get so set on your goal that you lose your humanity."
Cicero, Roman author, orator, & politician (106 BC – 43 BC)
If you are a grocery store leader, city council member, or other stakeholder to the problem and would like to talk, please contact us. We'd love to share with you the findings of a public workshop we hosted where we brought people together from all walks of life to discuss, dive into, and propose a range of possible solutions to the abandoned shopping cart problem.
Abandoned shopping carts can be seen around most any town, Anytown, USA or beyond.
View the workshop photo album and see the Big Idea Toolkit in action. Learn more about the large format visual planning system that we used to guide our workshop discussion.
about the author
Gregory Olson's latest book is L' impossi preneurs: A Hopeful Journey Through Tomorrow, a light-hearted and deadly serious book about a brighter future where we live more meaningful lives, governments invest in people and sustainable progress, and technology serves humans.
Greg also authored The Experience Design Blueprint, a book about designing better experiences and then making them come true. The models in the Experience Design BLUEPRINT are equally relevant to organizations of all types and sizes including start-up entrepreneurs, nonprofits, for-profits, and government.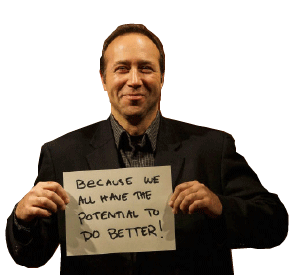 Gregory Olson founded strategy and design firm Delightability, LLC. with the belief that if you delight customers then success will follow. He believes that we all have the potential to do better, as individuals, organizations, and communities, but sometimes we need a little help.  Gregory also serves as a volunteer board member for Oikocredit Northwest, a support association for social and impact investor, Oikocredit International.