The lack of success and outright failure of change initiatives has caused us to design a sustainable and effective model for change. Though change doesn't happen without people, our experience shows us that many leaders jump from decision to implementation, skipping the critical step of gaining alignment of the people who will carry the burden.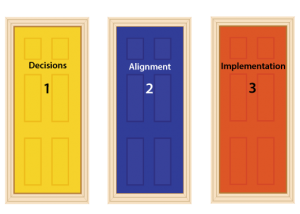 Our human centric change model embraces people; we call it the 3 Doors of Change. Think of successful change initiatives having to pass through each of the 3 doors in order for the change to take hold and make a lasting impact. Getting through door number 1 is easy and involves making a decision, crafting a vision or a plan. Here is where organizations often invest time and resources into making a better, more informed decision.
Door number 3 is implementation. It is here where plans are put to the test. The mechanical performance of actions are performed to get the desired results. The execution police are relentless in keeping us on task even though we may have lost site of what we were doing, or the original purpose behind it. The belief that employees or volunteers blindly adhere to whatever has been decided may be a hangover from the industrial age and era of specialization where people were thought of as efficient assembly line workers, chunking out whatever the factory boss had configured the line to do.
But, most of us don't work in factories. And, even fewer workers today have a sense of duty to whoever is barking orders.
So, why is it that we still act like we work in factories? Because institutions and organizations are slow to change save for the rare organization that crafts new rules and norms. HR, Training and Development departments, and leaders are seldom well versed in psychology, campaign design, and shaping human behavior. Think of your current organization and all of the organizations that you've worked with and for. How much did you learn about getting other people on board your train? That is exactly what is needed for successful change and the subject of door number 2, alignment.
Door number 2 is the pathway to sustainable change. Here is where activities and campaigns help to on-board,  inform, and empower people to participate. As members of teams and participants to others' plans, we crave to be heard and to be ready for what is asked of us. Visit any social network or a highly functioning team and you'll witness this in droves.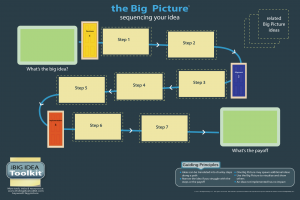 The Big Idea Toolkit has this change model built in. The path on the Big Picture is intentionally a "z" shape. At first, when you make a decision and move through door number 1 you feel like you are moving forward. But, then you feel like you are going backwards when trying to gain alignment. Time seem to slow d o w n while your working through alignment. After gaining alignment, you're moving forward again. These feelings of moving forward then backward and forward again are reinforced by the blue z shaped path on the Big Picture.
Teams that skip door number 2, jumping to implementation too quickly, eventually return to gain alignment of the rest of the people that will carry out the change. Think of changes you've been apart of or witnessed. It IS very possible that change occurs quickly, effortlessly, and even invisibly  But, for this to happen you'll have to include attributes that help with door number 2, alignment. In the best of cases, you'll have a high alignment-word density in your change initiative. Alignment words to consider include: valued, inclusion, expression, respect, participation, secure, authentic, credible, relevant, focused, incremental, clarity, easy, purpose, destination, community, sharing, and payoff.
Change efforts needn't be top town or driven by legislation. No boss told you to put yourself on Facebook or LinkedIn or begin text messaging yet, you did all of those.
If you want to make a bigger impact for yourself and others you'll need to pay attention to the 3 Doors of Change. You'll look less like a politician, lawmaker, or bureaucrat and more like an 21st century change master that aligns people to make great things happen. And, in a lopsided world rife with ailments we could all use more greatness.