The Patient Journey Starts Before and Ends Long After the Patient Sees the Caregiver
As much emphasis that is placed on patient care and better health, there is an invisible trauma inflicted on patients everyday. Patient experience problems extend beyond the point of care. Misinformation, poor customer service and communications, time wasted, lack of respect, etc. all diminish the positive attributes of medical care. At its worst patients dread the very thing that will make them better.
"First, do no harm" is part of Aim #1: Health Care Must Be Safe in the "Implementing the Quality Chasm Report" a resource from the Institute for Healthcare Improvement. While it is necessary for healthcare providers to adopt such a maxim it alone is not sufficient to ensure that harm is not done to patients.
Because the patient experience involves more than the interaction with the caregiver, the physician or nurse alone cannot ensure a great experience. Communications online and with reception staff, lab and testing interactions, and patient billing post services all impact the overall quality of the patient experience. One patient interview revealed angst over an unpaid bill for services provided that the insurance company deemed out of network, even though the specialist the patient saw was in the facilities of the in network provider. The patient was not informed of this nor were they provided any options to visit other specialists. The provider has left a poor brand aftertaste in the mind of the patient who after a year, still refuses to pay the bill, "until things are sorted out".
The maxim that has guided healthcare professionals for millennia doesn't penetrate deep enough into the health care system. Employing systems level thinking, and mapping the entire patient journey across all touchpoints can reveal many insights into reducing harm, improving patient care and identifying organizational execution gaps. Results include increased organizational effectiveness, reduced staff turnover, and happier patients and families.
"We can't solve problems by using the same kind of thinking we used when we created them." – Albert Einstein
Patient Experience Problems Span Organizations
Part of the challenge of fixing problems such as healthcare is that the patient experience and problems span many organizations. No one hospital, insurance company or collective can solve the entire problem on their own. Each type of organization has their bias and perspective. Still there exists many opportunities to improve within each organization. To provide remarkable cost effective patient care requires an objective view that spans organizations while never losing sight of the patient perspective. When this happens, we will all feel transformation in a system that today continues to inflict harm to patients.
Get Started: Cure Patient Experience Problems
Charter a team with a vision for improving the patient experience
Get an outsider to facilitate the process
Prioritize and map the patient journeys
Prioritize & implement high impact improvement projects
Want to try it on your own?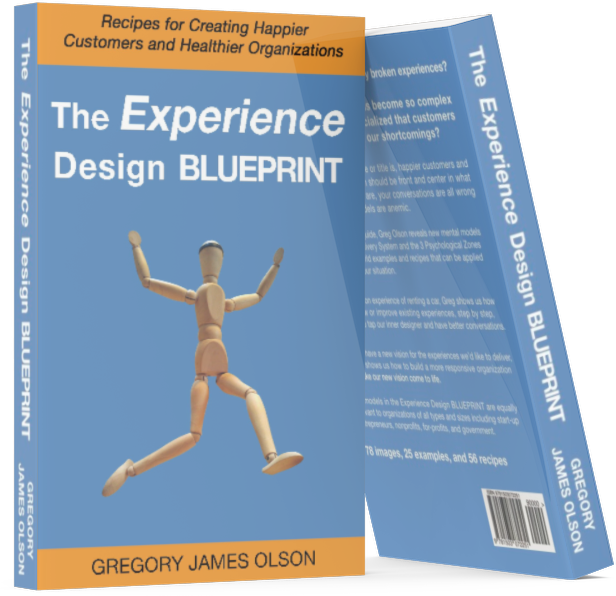 Change the conversation in your organization by improving your team's experience vocabulary. Learn how patients see the healthcare experience differently than you do. Learn about the experience honeycomb, experience hoop and halo, and how to model patient experiences. Then learn how to apply filters, lenses, and levers to improve experiences for patients and for staff. Paying attention to your promise delivery system and the three psychological zones can move a stumbling team forward, turning lackluster experiences into experiences that are remarkable for patients, guests, and caregivers.
The book, The Experience Design BLUEPRINT: Recipes for Creating Happier Customers and Healthier Organizations, contains 25 examples, 78 images, and 56 recipes that you can immediately apply to your organization no matter the size and type of your organization.  Click the image to get the Kindle formatted book that is readable on nearly any device including Kindle, Smartphones, Tablets, Mac or PC, even a web browser. Download the one page book summary along with author contact information. Please reach out if you'd like some help.