Did you get it done today? What about last week, did you finish all that you were piling on? How about last year? How did you fare in 2013? If your year were a song, how would it sound?
If you are like most people, you wandered in the swamp a bit, got some things done, and have a long list of projects that you're now re-prioritizing. Your 2013 song probably lacked harmony.
We all tend to be overconfident in accomplishing too much in too little time. After all, our ambitions will always exceed our ability to execute, given the available level of resources. It doesn't matter if we are acting alone or with a large group; smart creative people can simply think of stuff faster than that same stuff can be done. Our priorities change and our lives and workflow are often interrupted by unplanned activities and people. We may even interrupt ourselves as we generate ideas that come at times inconvenient. If our lives in such a state were put to music, that music would be full of staccato notes or might even resemble a cat randomly dancing on a piano keyboard.
I prefer my music and life more harmonious so I created a tool for myself to help stay on top of my changing priorities.  I call it my Daily Flight Plan. I print and use this daily. You should use it, or something like it, too.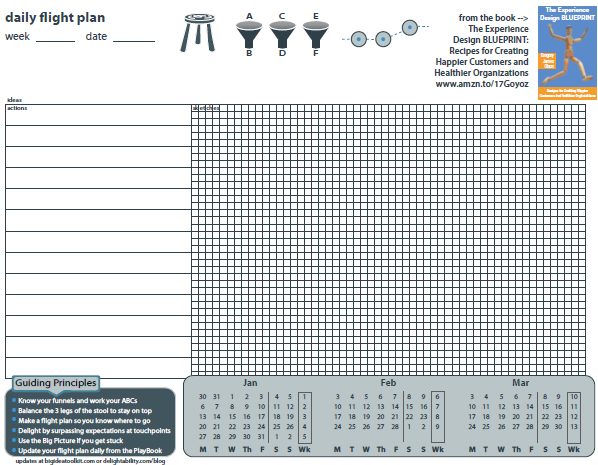 I periodically update the calendar on this Daily Flight Plan productivity tool and always make it available for FREE. This version has a Q1 2014 calendar along with week numbers. Print one and use it daily to keep track of what you are doing. If you want to learn more about the visual cues at the top then read the original blog post or read my book, The Experience Design BLUEPRINT. If you want to compliment this with a larger format sticky note based wall planner, then check out the PlayBook from the Big Idea Toolkit.
I hope your 2014 is more fun, more impactful, and more meaningful than your 2013 was. If your 2013 rocked then maybe you can lend an ear, hand, brain, or whatever to someone that struggled. While GDP and the stock market are up in the U.S, most people's personal economies are still fragments of their former selves and not improving rapidly. There are plenty of people that need help. Reach out. For ideas on what to do check out Chapter 14: The World of Work Has Changed in my book, The Experience Design BLUEPRINT.
Good luck, have fun, and make more meaning. I hope your 2014 song is easy on the ears.