Everything has changed, but you're still executing on the old strategy? Chances are you've been too busy to re-examine your strategy, let alone change course. Like most organizations you've completed your annual planning and you're on cruise control –Set it and Forget. Of course, you'll revisit the strategy in next year's annual planning session. But what happens when you're cruising down the road and a competitor, customer, partner, or legislation throws the proverbial monkey wrench in your spokes. Right – your organization will react to it when you encounter that problem. If that is what you believe, then you've fallen into the trap. That's the thing, you can only react to those things you are aware of. Most things that erode your business are more subtle than the abrupt, spoke shearing monkey wrench. Think of a hidden killer like pancreatic cancer. You don't have years of leading indicators. When it is too late, it is sadly, too late.
One of my mentors once told me "A lot can happen in a little while." If you caught the Oscars last night, in particular the memorandum part, recall the talent that expired in the past year. Writers, Producers, Actresses, Actors, all removed from the talent pool that brought us great entertainment. The business world is no different. People, businesses, technology, relationships – it's all changing faster than your annual planning cycle.
So, take a trip around your organization. Are your people keeping up in real time or are they unquestioningly executing on yesterday's strategy? How ready is your organization to adapt to a shifting strategy? What are you doing to notice trends and changes in the business landscape and customer and partner ecosystems? These are key areas that present both opportunities and threats. Who is watching your organization's back? Who is spotting dangerous currents or bountiful waters? Is anybody at the table bringing an outside perspective? Do you have sensors in the ground to take notice? Here is a visual tool and 5 steps that will keep your business apprised to the changing world outside your organization.
Trends and Technology Timeline 2010 and beyond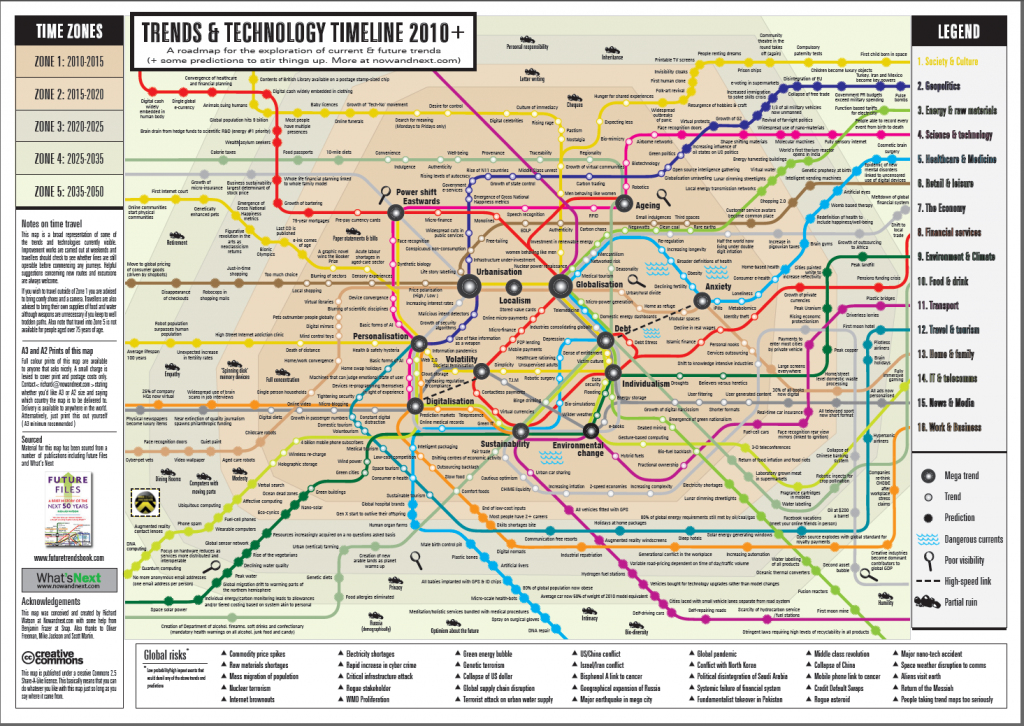 Take these 5 steps to have better business success
Study, really study, the Trends & Technology Timeline 2010+
Shift your perspective
Receive feedback from Sensors in the Ground
Change the dialogue in your organization
Expand your innovation neighborhood to include outsiders