Would You Have the Courage to Sound the Alarm?
Did you feel that? Something just changed. There it is again. You see it that time? OK, so you missed it this time, but will you sense it next time? And, if you do, will you do anything about it?
Sometimes a failure to confront reality has no impact. Time innocently advances and things seem to go on as normal. After all, you don't see the thing that you're not looking for. And, if it isn't noisy or disturbing enough, it doesn't punish you for not noticing.
Lessons from Pearl Harbor
This wasn't the case on the morning of December 7, 1941 at Opana Point, Hawaii. Here at 7:02 in the morning, privates Joseph L. Lockard and George Elliot had been monitoring the mobile radar unit and noticed a large blip, more like a curtain, on the radar screen. When George reported what they believed to be approaching aircraft, to the information center at Fort Shafter, the United States Army Pacific headquarters, they were assured "not to worry." The large blip on the new radar was reasoned by the commanding officer, lieutenant Kermit Tyler, to be Army B-17 Flying Fortress bombers that were scheduled to arrive that morning. But, Tyler's prediction was deathly wrong as Pearl Harbor was under siege less than one hour later.
Some of the lessons of the Attack on Pearl Harbor are resoundingly clear:
Early warning systems can alert you to trouble, but only if you trust what you are are sensing
The chain of command can sometimes prevent the truth from surfacing
Consequences of inaction can be debilitating and devastating
You don't have to be in the military for these lessons to apply.
Is your organization making these mistakes?
Your organization ignores warning signs and stories shared by employees, customers, and partners. Some people may be labeled as "alarmists".
Your culture restricts or retards the flow of information across functional areas as well as up and down levels of the organization
Decisions made are protected and unable to be changed or even informed
As the world outside your organization continues to morph, your company further solidifies its inside-out viewpoint; the strategy drifts from a marketplace reality
Signs of decay within the organization
An organization that makes these mistakes can lose market share to more courageous and thoughtful brands that listen and attempt to understand customers. When customers defect it's rarely about price. People give allegiance to brands that better understand them and deliver customer experiences aimed to win hearts and minds not just profits. But, perhaps as bad, when leadership and the culture within a company commit these offenses the organization becomes crippled and is unable to effectively collaborate across the silos it has created. Information even if it is seen is not absorbed into the knowledge of the organization. There is no rally around the truth. Competitive attacks occur and with greater frequency and intensity and employees further disengage. Problems seem too big to solve and outside of their domain or department. The cycle seems to get worse with each new plan, new launch and new initiative. Customers and employees suffer, but so does the overall health of the organization. When this happens you've built a lumpy snowball.
The Curse of the Lumpy Snowball applies to you whether you are an army of 10 or 10,000 or more. No organization is immune, not the government, small or large business, non-profit, budding entrepreneur or neighborhood association in your community.
In my book, The Experience Design BLUEPRINT: Recipes for Creating Happier Customers and Healthier Organizations, I introduce the Promise Delivery System, a visible closed loop system that revolves around an intended audience and includes four major components:
Develop Strategy
Produce & Deliver
Insights & Validation
Apply Learning
Among other things, the promise delivery system shows how to adjust your strategy based on changing conditions, so your organization's promises can meet and exceed your audiences' expectations. Making the organization's promise delivery system visible helps people to collectively stay on track, employees to be more engaged and know how ideas fit, and to understand how to improve the organization, its offerings, and how it communicates.
With a fully functioning promise delivery system all of the organizations's stakeholders become the collective everyday intelligence that prevents the need to sound the alarm or declare a state of emergency.
About the Author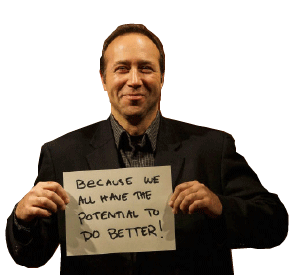 Gregory Olson is a consultant, speaker, and author of The Experience Design BLUEPRINT: Recipes for Creating Happier Customers and Healthier Organizations.
Connect with Greg on Linkedin, Facebook, or Twitter.
Exercises and mental models in the book will build your confidence and competence in envisioning better possibilities and then making them come true, whether you are working alone or alongside a team. Chapters in the book that especially pertain to this post include:
Chapter 1: What Makes and Experience?
Chapter 6: Aiming for Remarkable, Unbroken, and Generous Design
Chapter 8: The Promise Delivery System
Chapter 11: Barriers to Innovation and Overcoming the Wall
See a book summary. Read the book reviews on Amazon. Read The Experience Design Blueprint on Kindle or any device using the free Kindle Reader application or read the full color print edition.  Already read it? Please connect and let me know.