This is a message to leaders everywhere. Perhaps you lead a major corporation, a startup, a non-profit, a small business, or a government agency; it really doesn't matter, the message is all the same.
Enough! We've all been running the busy program, or rather, the busy program has been running us. It's a bit like driving down the highway, but going too fast to read the signs passing you by. The symptoms vary but may look like: vacations become working vacations; you're never "off" the clock; there is no time to relax and even in your "idle" time your busy planning your busy time.
The trouble is these "highway signs" you can't read in your life as your forging full speed ahead are actually opportunities passing you by. One sign that you missed might have said, BIGGEST INNOVATION OPPORTUNITY. Another might say YOUR DAUGHTER NEEDS YOU. Most people never slow down, in order to speed up, that is until they have a personal crisis. For some, that might be a heart attack, death of a loved one, cancer, divorce, or the recognition that your family no longer recognizes you.
It's time to WAKE UP! You can choose to stop running the busy program at any time. You don't need a crisis to have a new consciousness.
"It is not enough to be busy. So are the ants. The question is: What are we busy about?" Henry David Thoreau
Ask yourself what would you do if you had 10 or 20% more capacity? And what about those you lead and interact with. What if each of them had 10 or 20% more capacity? What if that capacity were used to be creative, what would that look like in your organization? What if that additional capacity were put to use solving those persistent, nagging, seemingly unsolvable "wicked" problems. What if that capacity were nobly consumed to live a more healthy lifestyle, or to be more balanced between work and family or personal life? Imagine the kids and Fido seeing more of mom or dad. What if each person WASN'T doing 2 or 3 jobs? What would that mean for your organization? For each of your employee's experience? For your customer's experience? What about for the economy?
As you return from this Sunday, whether that was an Easter Sunday for you, or any other Sunday, ask yourself, what if? But, then as soon as you are done asking, do something about it; for you and for those that around you. Chances are, if you are running the busy program, you never saw this message, at least not until somebody that cared, forwarded this  post to you.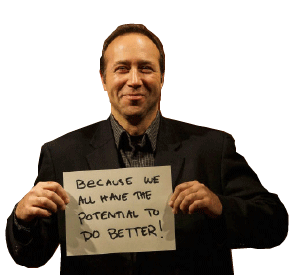 Greg Olson is a business coach to leaders and the author of The Experience Design BLUEPRINT:
Recipes for Happier Customers and Healthier Organizations. Chapters in the book that pertain to this blog post include Chapter 8: The Promise Delivery System and Chapter 14: The World of Work has Changed. Read it on Kindle or any device using the free Kindle Reader application.