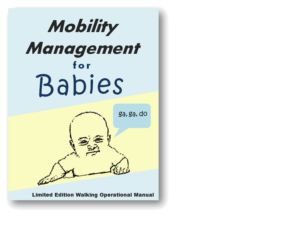 Gosh. That sounds mean.  Why would you say that?  Like a child learning to walk, uninstructed, unencumbered by rules and the walkers operational manual, we all need to run experiments, prototype and get onto the business of walking so someday we can master running.   Babies run experiments and eventually they turn many failed attempts into the successful first walk.  They go on to refine their walk and eventually master running, skipping, jumping and a host of related activities.  In our adult lives we sometimes forget how naturally wired we are to do this.  We erect and adhere to rules, systems, and process even when the situation doesn't call for it.   Failure is OK; it can be really good for you and your organization.  I pray that you fail and then learn from it to make a difference.
If you can't walk, then you can't run.  And running is exactly what you need to do to out execute the competition and to sense, satisfy, and delight the needs and wants of your customers.
Have courage to create a new conversation.  Take a risk. Build a prototype.  Test it for value.  If you don't fail – great.  But it you do, share the failing, learn from it, and move on. Think of all of the wonderfulness in the world that we wouldn't experience if people didn't have the courage to face potential failure.
Now go out and fail at something to make the world a better place.