I'd love to tell you about my very positive cable company customer experience. Unfortunately, I don't have that.  No doubt, you don't either.  Normally, I don't get very political on the Delightability blog, but since I've just come off of a lackluster customer experience with my cable company and within hours saw John Oliver's entertaining and informative video I couldn't resist.
A recent experience with my local cable provider.
To make a long story short, 2 hours long in fact – I bought a new Zoom cable modem so I would no longer have to lease, the cable company provided Arris brand modem. Following the quick start guide from Zoom, I set everything up and then proceeded to the last step, namely, call my local cable company [Comcast] and provide them with the MAC address of my modem. From the online reviews for the Zoom modem this seemed to be a normally smooth and swift operation. That is, when its handled by trained support personnel that know the ins and outs of activating the cable modem over the internet. For whatever reason, this was not my customer experience on this particular day.
Having been a technician and an engineer in the past, I've dealt with many technical systems at the bit, byte, and transistor level as well as the system level. I'm very empathetic and forgiving toward people in technical support roles, especially knowing they are working over the phone, mostly blind to the system they are troubleshooting. But, the part where I'm UNforgiving is that after each technician obsessed on having an updated email address for me, Comcast then diligently notified me of an incremental charge. Nobody said such a charge was coming. This isn't the surprise and delight of the variety people appreciate. The matter of fact email made no mention of the support call or the two hours of my time consumed. The communication was centered around an incremental charge for the leased modem still in my possession. It also reflected an ongoing charge for voice equipment, which is peculiar since I have no Comcast phone service. That will be even more of my time wasted during a future call to billing, I suppose.
The Communication I Would have Liked to Receive as Part of my Cable Company Customer Experience
I would have preferred the communication to me from my local cable provider went more like this:
Mr. Olson,

We are really sorry you had to spend 2 hours resolving the activation issue with our technicians last evening. In most circumstances our technicians would have noticed that your disconnected modem was still listed as active for the outlet needing to be reassigned. In the event of such conflict our system gets confused. Unfortunately, it wasn't until your 3rd technician and near the close of your 2nd hour on the phone with us, before we recognized the mistake we were making. Two modems cannot be assigned to the same outlet.

On behalf of the team, I apologize and hope that you will give us the courtesy of your continued business. [I have no choice – they are the only cable provider licensed to operate in my zip code in the city of Seattle] To ease the pain a bit, we are going to credit your account with [insert some number of $'s here] and provide you with a premium channel lineup of your choosing for the next 3 months. Simply, call us or login to your account to accept our apologetic offering. We are happy that in the end, we were able to resolve the problem of connecting your cable internet service to your new cable modem.
But, instead of receiving the customer communications that I expected where I felt valued and respected, I only received what looked like a poorly formatted email bill from the accounting department. A bill that was wrong, at that. This isn't my first and only experience with Comcast. I have a long history of mostly disatisfying interactions that only add to my growing negative brand aftertaste.
Let's not give Comcast, Verizon, Time Warner and others a blank check.
It is hard to yield even more power and control to monopoly companies like Comcast that appear to be ever more greedy while the people and communities they serve are simply expected to suck up the service quality they receive and just keep reaching deeper in their pockets to pay more. After all, with Comcast it IS about shareholders and earnings not about people, communities, and service innovation. No wonder they rank low on customer satisfaction and high on complaints. With this, I introduce you to John Oliver's rant.
John Oliver's must see video no matter how busy you think you are.
John Oliver's 13 minute rant is educational, factual, and honestly a little disturbing. So disturbing in fact, that I hope you are spurred to action as I was. After watching the entertaining and informative video, please add your own comments on the FCC website. The FCC is soliciting comments for a period of 120 days from the public. Have fun and please don't turn a blind eye to something this important. Add your own comments at http://www.fcc.gov/comments When adding your comments look for "14-28 Protecting and Promoting the Open Internet."
about the author
Gregory Olson's latest book is L' impossi preneurs: A Hopeful Journey Through Tomorrow, a light-hearted and deadly serious book about a brighter future where we live more meaningful lives, governments invest in people and sustainable progress, and technology serves humans. Greg also authored The Experience Design Blueprint, a book about designing better experiences and then making them come true.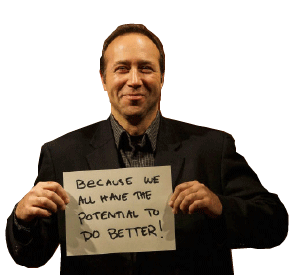 Gregory Olson founded strategy and design firm Delightability, LLC. with the belief that if you delight customers then success will follow. He believes that we all have the potential to do better, as individuals, organizations, and communities, but sometimes we need a little help.  Gregory also serves as a volunteer board member for Oikocredit Northwest, a support association for social and impact investor, Oikocredit International.