Glimmer of Hope in Your City
This blog post is an extension of a recent talk I gave to my colleagues at the Olympic Club, a forward-thinking group that has been meeting at The Rainier Club, since 1942. Special thanks to Councilmember Nick Licatta who accepted my guest invitation and joined us for lunch and stimulating conversation.
Our headlines are filled with negativity.
Most of the news networks serve to inflame us, rather than inform us. It feels as though we never make any progress and the problems are never-ending. But, this isn't really the case. There is progress, but it rarely makes it to the front page or carries headlines.
Glimmer of Hope
So, today I'm going to depart from the negative headlines and share a glimmer of hope. There is something that has been subtly brewing in the background that has gone largely unreported. I'm reporting on it now.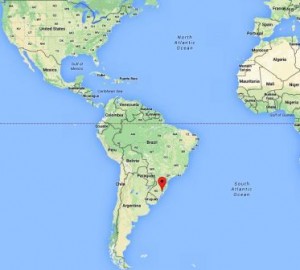 This glimmer of hope started 26 years ago in a land far, far away, actually South America, in a city about twice the size of Seattle. That glimmer of hope delivered on its promise and then spread to surrounding Latin American cities before it moved on to cities throughout Europe. Finally, in 2009, this glimmer of hope began reaching cities in the U.S., first in Chicago, then in Boston, then New York City, and more recently Vallejo, CA among others. Earlier this year it got a little toehold in our very own Seattle. Councilmember Nick Licata was the ambassador to bring this idea to Seattle.
What is the "glimmer of hope" I'm referring to?
I'm referring to participatory budgeting or PB for short.  It sounds pretty boring on the surface but it holds great promise. Have you have heard of this term? I suspect not, given the limited media exposure and small communications budgets of city governments. After all, public services from governments, no matter how beneficial and important, rarely show and shout as much as for-profit enterprises do. Think of Apple, AT&T, Comcast, etc. Most likely you can perfectly recall commercials from all of them. Think of all of the media coverage the Apple Watch received while at the same time most people are wholly ignorant of participatory budgeting.
So what exactly is participatory budgeting or PB?
Participatory budgeting is a democratic process in which community members directly decide how to spend part of a public budget. Here is roughly how it works:
Residents brainstorm ideas
Then proposals are developed from those ideas
Then residents vote on proposals
The ones with the most votes win funding
It is a bit like using Kickstarter or another crowdfunding platform but you work directly with your neighbors and instead of using your credit card you use public money.
So what's the big deal? Why does PB matter?
Well, in an era with so much wealth and power concentration, participatory budgeting is important:
It can restore trust and increase government transparency
It gets youth involved in the workings of government and the democratic process
It increases civic participation for youth and adults alike
It can reduce voter apathy
But, it goes beyond that.
It can actually take the guesswork out of governing
Innovation in government services and programs shouldn't be top-down. They should be informed by the collective intelligence and participation of the communities they serve
PB also improves governance at the local level
In short, participatory budgeting helps to create more meaningful and inclusive democracies.
So you might be wondering how much traction does this little idea have?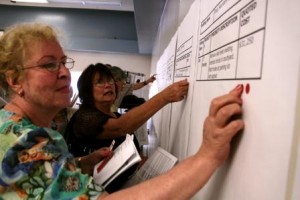 Well, there are now over 1500 participatory budgeting processes in the world. Participatory budgeting has been used for cities, states, counties, public housing, schools, and community organizations. Funds have been set aside for capital projects as well as for services and programs.
PB is successful across the world.
In the city where it started Porto Alegre, Brazil, PB has been used continuously since 1989, 26 years now. Of the 1.3 million residents, about 50,000 have participated annually and each year decide on 20% of the budget or around $200 million.
Winning projects have been about urban infrastructure and upgrading the quality level of the population. They have doubled sanitation coverage, doubled the number of students in schools, and expanded bus service to neglected areas.
But PB represents much more than this. In Porto Alegre, today, the citizens know and decide on public issues, They are becoming agents of their own future and are actively participating in public affairs. More than 70 other cities in Brazil are now using PB.
So what else have people decided to do with the public money that has been set aside?
It really depends upon the city.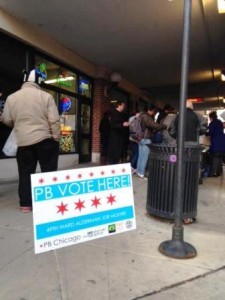 In Chicago, PB Chicago has now completed their third cycle with around 3500 residents around the city voting on how to spend $5 million in public funds.
Among the 26 winning projects in 2015, there are the usual suspects: street resurfacing, street lighting and sidewalk repairs, tree planting, bike lanes, and park improvements.  But there were also some uncommon projects:
Murals to spruce up viaducts
Green roofs for commercial properties on Chicago Ave
A culinary Institute Job Training Program
A small business micro-lending program
That is pretty innovative and it all came directly from the community. Aside from the direct benefits of these projects, Chicago has also reported an increase in participation of minorities and low-income residents and an increase in voter turnout. This is really promising.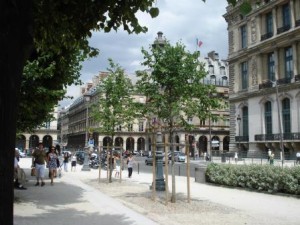 In Paris, France the results of the 2015 budgeting process are in. Parisians will spend 65 million euros on projects including:
wall gardens
urban renewal projects
co-working spaces for students and young entrepreneurs
improved waste sorting
school gardens
In an effort to build a more collaborative city leadership plans to allocate 500 million euros between 2014 and 2020, making it the largest PB initiative to date.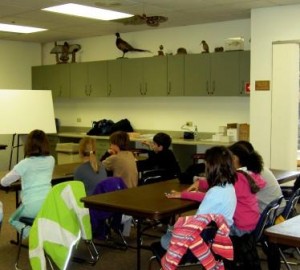 Participatory budgeting isn't limited to cities, or even adults, PB is being utilized by schools as a way for students to learn about the democratic process. In British Columbia, at a school in West Vancouver, students from kindergarten to seventh grade decide how to allocate $2,000 of the school's budget to projects voted on through a PB process.
So, where are we at in our own little city of Seattle?
We're just getting started. There have been a couple of public forums earlier this year to explore what PB could like in Seattle. Earlier in the week, Seattle City Councilmember Licata and Mayor Murray announced a PB project moving ahead in Seattle. Read the original announcement here or an article courtesy of The Stranger.
June 2016 Update: Results from First Seattle PB Initiative
In May 2016, more than 3,000 youth ages 11-25 voted on 19 project proposals deciding how to spend $700,000 of the City's budget. See the winning projects.
PB is sorely needed in our city so that the interests of all residents are represented.
I see big possibilities for PB in Seattle. On August 11, Seattleites will participate in National Night Out. Imagine as part of the discussion, every person was made aware of PB and began putting forward ideas that mattered to them. Or, they got behind other people's ideas.  I'd love to hear what people are thinking, in my own region, as well as across Seattle. I'd love to share my own ideas.
I've seen much PB progress around the world once I started digging into this subject. This, in spite of the major news outlets being basically dark on the subject. I hope that the toe-hold we have here blossoms into something much larger and more meaningful. I'm looking forward to seeing what unfolds next in Seattle and to participating in it directly. I hope you'll join me. If you are not in Seattle, I hope you'll start a similar conversation in your city. Learn more or download a toolkit from the Participatory Budgeting Project.
about the author
Gregory Olson is the author of The Experience Design Blueprint, a book about designing better experiences and then making them come true.
All of us have a role to play in advancing and supporting ideas that make cities better for those who live, work, recreate, or visit. These chapters especially pertain to this important and shared civic responsibility.
Chapter 6: Aiming for Remarkable, Unbroken and Generous Design
Chapter 7: Improving the Journey
Chapter 8: The Promise Delivery System
Chapter 9 The Neighborhood
Chapter 11: Barriers to Innovation
and Overcoming the Wall
Chapter 12: The Three Psychological Zones
His latest book is L' impossi preneurs: A Hopeful Journey Through Tomorrow, a light-hearted and deadly serious book about a brighter future where we live more meaningful lives, governments invest in people and sustainable progress, and technology serves humans. Participatory budgeting appears in Chapter 5: Wealth & Economy.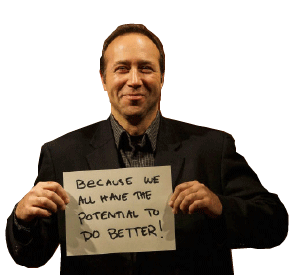 Gregory Olson founded strategy and design firm Delightability, LLC. with the belief that if you delight customers then success will follow. He believes that we all have the potential to do better, as individuals, organizations, and communities, but sometimes we need a little help.  Gregory also serves as a volunteer board member for Oikocredit Northwest, a support association for social investor and international financial cooperative, Oikocredit International.