It's true – there is a link between customer experiences and business performance. You are likely a customer, patient, visitor, resident, member, and many other labels. Think about your own experiences and the brands you rally around versus those you don't. If you have a great experience with a particular organization and its brand(s) then they will likely (and rightly) earn more of your dollars, mind-share, and advocacy.
Your own organization is no different. No matter the size or type of your organization, it benefits when more people are involved in its care and feeding.  Imagine more stakeholders enrolled in making your company successful.
Build More Relevance
The key to an organization staying relevant is twofold. First, you have to establish organizational habits that continuously strengthen operations. At the same time you have to provide experiences that are remarkable enough to customers, employees, partners, and other stakeholders that they are motivated to help future-proof your business. This likely requires new conversations and new thinking. You can self-diagnose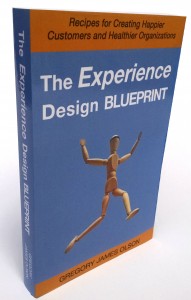 and administer solutions on your own using The Experience Design Blueprint: Recipes for Creating Happier Customers and a Healthier Organization, a book about designing better experiences and then making them come true.  It is filled with 25 real-world examples, 78 full-color illustrations, and 56 recipes for creating happier customers and building a healthier organization. One chapter of particular significance is CH 8: The Promise Delivery System. The Promise Delivery System is a mental model that reveals how organizations make and keep their promises, or don't. Paying attention to your Promise Delivery System is the path to building an increasingly relevance organization. Ignoring it is a path to becoming a lumpy snowball of an organization. 
"He who would do great things should not attempt them all alone." – Seneca
Culture of Innovation
You have ideas, large and small.  But, think of the many more ideas trapped in the minds of employees, customers, and partners. Accessing and empowering these ideas is critical to survive a constantly changing and unforgiving marketplace. Whether you are a tiny organization or a large enterprise your culture of innovation directly impacts your business performance.
 Strategy Meets Design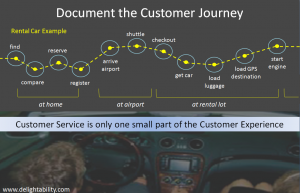 We connect the dots between strategy and execution. We're not simply innovators, strategists, and big thinkers. We help put ideas into action by rolling up our sleeves, writing effective copy, designing integrated marketing campaigns, creating visual identity, and interviewing and influencing stakeholders. Where tools and processes don't exist, we create them. We establish brands when they don't exist, and breathe life into brands that do.
Consultant and Agency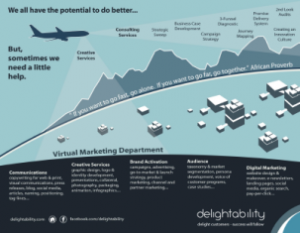 Sometimes a business leader knows exactly the creative services needed, e.g. product photography, website, or campaign. In this regard Delightability acts as a traditional full-service advertising agency. But often, leaders don't know exactly what's needed. Perhaps they wish to explore opportunities, run an experiment, or do something new that doesn't fit the organization's patterns, roles, or resources. We have the courage to challenge and ask tough questions. We have tools and methods to cut through ambiguity and create a clear path forward. Whether we act as a consultant or an agency, our goal is always for you to make a bigger impact.
 Working With Us
We are happy to take on projects, large or small, with new clients. We have experience in many industries. For those ongoing clients who we obsess about, we regularly calibrate priorities and execution using agile methods borrowed from the software industry. An adaptation of SCRUM used in agile software development, we call it the Business Sprint. Think of it as guided collaboration that gets you to your intended destination and stays within your budget.
If you are a business leader looking to make a bigger impact let's discuss how we might work together. Contact Us
See "The Why" behind Our Work
See Our Services and Capabilities
See a Sampling of our Client Work