Organizations that make the customer experience a priority significantly outperform their peers. Here are 7 benefits that directly affect the sustainability of your organization whether you are a for-profit, nonprofit, or government agency.
Reducing the cost to serve and eliminating execution gaps
Increasing employee engagement and retention
Increasing customer loyalty and revenue
Reducing the cost to acquire new customers
Reducing strategic risk by staying true to customers' shifting needs and desires
Reducing the impact of established competitors or relevance of upstarts
Improved innovation culture and increased organizational alignment
There is no better time to get started to make the customer experience core to your business.  Chances are, your existing competitors or new market entrants are doing exactly that.
Many companies don't lack for good ideas.  But, organizations have difficulty prioritizing and aligning the organization around a common purpose and direction.  Micro-strategies come into play across the enterprise as biases, relationships, and differing perspectives take hold. "Let's try social media."  "Lets add this feature."  "Let's reduce costs." "Hire better sales people."  You can hear these and other approaches resonate in the corridors of your organization.  Insights, if they are captured at all, end up in dead-end planning cycles or don't make it to the conversation.  Your scorecard likely has all of the wrong measures.  But you seem to be surviving, at least until you don't.
---
Unlike the TV reality show, Survivor, there is no immunity card to be gained.
The best immunity to your own company's obsolescence is to rally your stakeholders around a common set of customers, and then delight those customers better than the competition.  If you do that and don't run out of cash, you will be relevant and longstanding.
To overcome the biases built into each of your departments you'll need an outside perspective.
To intentionally design customer experiences, you'll need to:
Make the customer come alive inside the organization
Think beyond customer service as the customer experience
Map customer journeys and perform touch point analysis and tuneup
Identify or create moments of truth
Document your Promise Delivery System, the invisible system by which organizations make and keep promises to their stakeholders
You'll need to wear many hats and look through many different lenses.  You'll need to think differently about your customers and your organization.  You'll need to create and enable high performing teams.  For all of that you'll need expertise and a framework to get started, realize quick wins, expand success, and maintain momentum.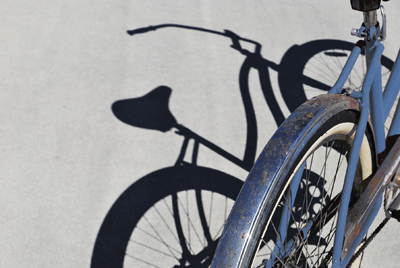 But, you have an existing business to run.  So how do you fix the bicycle and ride it at the same time?  Work with us! We bring an outside perspective, expertise and guidance. We coach and counsel to get you ready.  We enable teams.  We work together to transform your organization and ultimately, your culture.
The Experience Design Blueprint is a systematic framework and now a book that empowers your team to design better experiences and then make them come true in the organization and the business landscape. You can try it on your own or we can help. We can start with an individual product or campaign. Or we can work together toward a large scale service culture transformation across the organization and even your extended enterprise.
Together we help you close your brand promise gap and tap your organization's potential to do better.
As David Maister says in his informative and entertaining book, Strategy and the Fat Smoker, "You don't get the benefits of a strategy not implemented and half measures don't work."
So what are you waiting for?  Lets have a conversation.  You have much to gain and nothing to lose.