Self Help
Sometimes you're not quite ready to engage a consultant or agency. Perhaps its a budget issue or you think you need to do more formative work to mature things a bit, prior to getting others involved. While we are happy to assist with the heavy lifting we do understand the words, not yet.
So, during those times when you are going at it alone, we offer you the following resources:
Gregory Olson's book, The Experience Design BLUEPRINT: Recipes for Creating Happier Customers and Healthier Organizations
Large format visual planning system, The Big Idea Toolkit
Or, find inspiration by clicking the tag cloud or searching this site using the search box or tag cloud located on the right hand side of most pages on this site
Book: The Experience Design Blueprint
Many people, probably yourself included, feel that experiences are important. But, too often in organizations, getting on the same page with what a experience even is can be daunting, let alone charting a path to design and deliver better ones. Add to that, the complexity of serving multiple stakeholders in a competitive environment with seemingly little customer loyalty.
You can't deliver more remarkable experiences without having a healthy innovation culture. My book is a fusion of both.
As I show you in my book, it isn't that hard to create happier customers and build a healthier organization along the way. True, you might have to abandoned some biases and outdated thinking. You'll look at situations with new eyes. There are 56 recipes, 78 images, and 25 examples from many industries to inspire you. Click the image to the right for a book summary. Or, read the reviews on Amazon.
Tool: The Big Idea Toolkit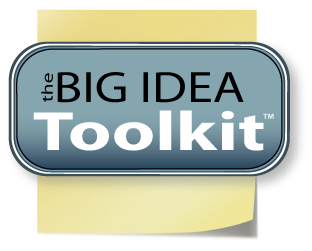 The Big Idea Toolkit is a large format planning system that uses sticky notes and posters/poster boards that are designed to guide you. The 7 visual planning tools guide you from: capturing ideas, getting clear on your audience and the situation, building a simple step-wise plan, reducing potential blind spots, and creating a PlayBook calendar to ensure excellence in execution. Whether you work as a solopreneur or part of a larger team, the Big Idea Toolkit will help you get more important stuff done, so you can make a bigger impact with your audience. Useful for planning and executing campaigns, communications, events, fundraisers, product launches – really,  anytime you need to have more productive conversations, get people on the same page, and ensure execution.  See Reviews. See the short video on YouTube. To purchase or learn more visit the Big Idea Toolkit.
See "The Why" behind Our Work
See Our Services and Capabilities
See a Sampling of our Client Work